Satellites in orbit around earth are used in many areas and disciplines, including space science, earth observation, meteorology, climate research, telecommunication, navigation and human space exploration. They offer a unique resource for collecting scientific data, commercial opportunities and various essential applications and services, which lead to unrivalled possibilities for research and exploitation. However, in the past decades, with increasing space activities, a new and unexpected hazard has started to emerge: space debris.
This lecture will provide the scientific, technical and operational background in relation to the sources, surveillance and mitigation of space debris. This covers risk assessment aspects: source and sink terms, particle flux models, aerodynamics and aerothermal aspects during atmospheric re-entry and related on-ground risk assessments; all major aspects of space surveillance: ground-based radar and telescope systems, orbit determination methods (batch least square, Levenberg-Marquardt, Kalmanfilter), residuals, covariances, operational collision avoidance; As well as space debris mitigation aspects: long-term environment projection models, international guidelines, passivation methods, shielding concepts, methods for post mission disposal and verification of measures.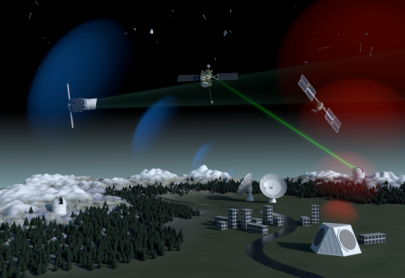 Space Debris – Risks, Surveillance and Mitigation is held every summer term. The course consists of a two-hour lecture per week. It is an elective course aimed at master students of Mechanical and Process Engineering. Students of other subjects are welcome to participate if they meet the prerequisites of their courses of study. The course totals four ECTS credit points. Lectures are held by Dr.-Ing. Holger Krag (Head of the Space Debris Office ESOC).
Lecture: Friday, 09:00h – 10:30h in L4|02 – 202 (Hörsaal- und Medienzentrum (HMZ), 2nd floor)
Beginning of the course: Friday, April 17, 2020
Please visit the e-learning platform Moodle for an overview of all lecture dates.
Oral examination, approx. 20 minutes per student
It is necessary to register first via Moodle for an oral examination date!
Afterwards, a registration in TUCaN is required.
Please note: An application for the oral examination in TUCaN without a prior registration via Moodle is invalid.
The examination dates will be published via Moodle.
Please register for this lecture in TUCaN. Afterwards, you will be automatically subscribed at the e-learning portal Moodle. There you can download the lecture notes and find current information regarding the lecture dates. You will need your TU-ID (e.g.: "ab12ebob.stud.tu" > TUCaN/Moodle: "ab12ebob") and your password. In case you need help with your TU-ID or the registration, please contact the e-learning center of the HRZ.